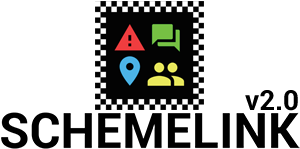 About Schemelink
Launched in June 2006 as Pubwatchonline.co.uk and ShopwatchOnline.co.uk, we have successfully provided online scheme portals in the UK since and lead the way in online scheme data sharing and communication. Schemelink.co.uk is an evolution of our services and has been developed as a central point for easier sharing of data & communication across scheme types, unifying online scheme services for members, police & councils. By bringing all these services to one central point strengenths and simplfies the task of managing schemes for Pubwatch, Shopwatch, Hotelwatch and others with the unified task of reducing crime and anti-social behavior.
Feature rich and incorporating a range of different ways of communicating such as live chat, two-way radio style comms, this service has proven itself to the 1000's of registered users as an invaluable tool for the day-to-day operations and managment of a scheme.
Over the many years since our launch in 2006 we have learned in-depth how schemes and other agencies operate allowing us to develop the right solutions and functions to facilitate daily scheme operations. With Schemelink, functions are now modular in design allowing customisation of an online portal to deliver the functions that best suit users needs. This modular design allows you to manage many different types of schemes and share data across all or just some schemes if required. A pubwatch portal can now communicate with a shopwatch portal...Hotelwatch portal...Airportwatch portal...ruralwatch portal...all schemes. The perfect solution for your group and most importantly, & proven effective!